[headline h="3″]
LTG (Ret.) WILLIAM G. BOYKIN
Speaks at the 24th Annual
Orange County Government Leaders' Prayer Breakfast
Friday May 28, 2010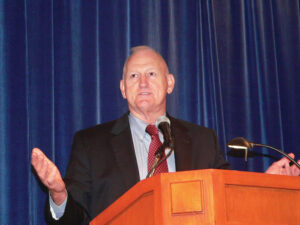 [/headline]
LTG (Ret.) William G. Boykin one of the original members of the US Army's Delta Force and who became commander of the unit and later commanded all U.S. Army Special Forces spoke on Friday May 28, 2010 at the Orange County Government Leaders' Prayer Breakfast at the Marriott Hotel in Irvine, CA. He spoke on his long military career including military operation in Granada, Panama and Somalia and his belief in God and how he kept faith. Invited guests included Special Forces Association Chapter 78, Honored Government Leaders from Southern California, including representatives of Congress, the California Senate and State Assembly, City Mayors and Leaders of local law enforcement agencies.
A major sponsor of the event was chapter member Richard Simonian of Santiago Communities, Inc, who also was a founding member of Special Forces in the Original 10th Special Forces Group in Germany during the early 1950's. Chapter members, Colonel Mark Breslow and CSM Robert Crebbs of the CSMR organized and led a military honor guard and presented the Colors for the beginning of the morning's event.
Retired LTG Jerry Boykin was one of the original members of the US Army's Delta Force and participated in Special Operations from 1979 until his retirement. He accepted the surrendr of Manuel Noriega and headed the chase to capture Colombian drug czar Pablo Escobar in 1992. In 1993, clashed with Muslim warloard Osman Atto in Somalia, an event chronicled in the fillm Black Hawk Down. In his 36 years of service he commanded all the Army's Green Berets, served a tour with the CIA, participated in clandestine operations around the worrld, and served as the Deputy Under Secretary of Defense for Intelligence in Washington DC. His book, Never Surrender, chronicles many of his experiences including the toughest battle he ever fought.
Immediately following the Prayer Breakfast and ceremonies LTG "Jerry" Boykin joined members of Chapter 78 for a signing of his book, "Never Surrender: A Soldier's Journey to The Crossroads of Faith And Freedom." Ramon Rodriguez presented the general with a Chapter 78 Coin, describing how it was designed and what the individual logos represented. Members of chapter 78 then had the opportunity to have photographs taken with LTG Boykin.