One year after Chapter 78 was called to help on the production of Velvet Andrew Smith's movie, Ripple Effect, we attended the Premier at the Newport Beach Film Festival on Friday April 29, 2011. This film was included with a series of 5 War Shorts at Triangle Square. Members who attended the premier included John and Mrs. Joyce, Bruce and Jeri Long and Lonny Holmes. All five War Shorts revolved around war in the Middle East or Africa. Immediately following the viewing there was a question and answer session of the directors moderated by a Film Festival speaker. In my opinion the Ripple Effect was heads and shoulders above the other films in content, direction, special effects and music. It speaks truly to the American Way, the Special Forces, 18D (medic) and our effort in Afghanistan.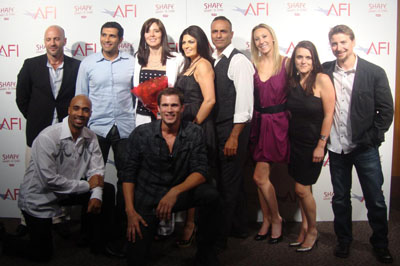 The American Film Institute Directors Workshop for Women has been a major training force for women in film making since 1974. Over 250 women graduates have had the opportunity to participate in this program. Velvet A. Smith, director of the "Ripple Effect", was one of 8 chosen to participate in 2010. The films of these eight women premiered on Monday night May 9, 2011 at the Directors Guild of American on Sunset Boulevard, Los Angeles, CA. Their content varied from comedy, romance, and tragedy to the Afghan War of the Ripple Effect. The DGA Theater is recognized as one of the "preeminent screening facilities, private reception, and film premiere facilities in the United States."
Brad Welker, Steve Cowan, Terry and Juliette Cagnolatti and Lonny and Nilda Holmes were invited to attend the American Film Institute Premier along with the Cast of the Ripple Effect. Again, our impression was that the Ripple Effect was the outstanding film of the evening. Immediately following the 8 movies there was a reception hosted by the AFI. Thus offered the opportunity we took may pictures with members of the cast, Velvet and her husband Kirk (film editor), and other participants in the film. After the reception we adjourned to the Chateau Marmont with Velvet, Kirk, Patrick Quinlan and others for drinks and a late dinner.
Reflecting on the making of the movie, Ripple Effect, it is very interesting to view the final product, to observe how the film changes in post production with the addition of music, editing, special effects and all the Hollywood Magic.